Why We Host
Sample Event


Join us on sample date
Friendsgiving for No Kid Hungry hosts are making a difference in the lives of kids across the country. Read below to learn more from our 2017 hosts and their advice on how to make your event a success.
Little Rock, Arkansas
Sister and Brother Duo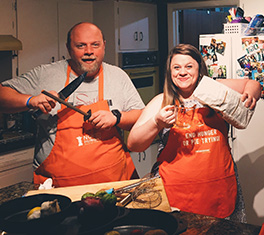 Why did you choose to support No Kid Hungry?
As a food broker, Robby has done work with the school lunch programs in Arkansas for years, and he sees the daily impact that hunger has on kids and their early development. We couldn't think of a better way to get in the holiday spirit than contributing our time and talents to such a worthy cause.

What was your favorite part of hosting Friendsgiving for No Kid Hungry?
Getting a group of our friends together around a plate of food to support a great cause. I don't think anything brings people together like a meal.

What's one staple you always have in your kitchen?
Eggs

What advice do you have for new Friendsgiving hosts?
Take something you normally do and love, in our case that was hosting parties in our home, and jazz it up a little. Decorate, have people dress up, and ask them to contribute to the cause! Additionally, use all of your social media connections. If you have friends that own a restaurant, ask them to share your posts too. Every little bit helps.
Ann Marie Coan
Atlanta, Georgia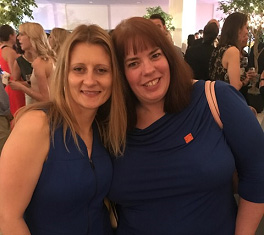 How did you hear about Friendsgiving for No Kid Hungry?
As a longtime supporter of No Kid Hungry, I received an email notifying me about Friendsgiving for No Kid Hungry. Since I had already been hosting my annual Thanksmas holiday party to raise money for No Kid Hungry, this just made it so much easier. I was extremely excited that my guests would have the ability to make online donations.

What was your favorite part of hosting Friendsgiving for No Kid Hungry?
Enjoying a meal with friends and getting them excited about reaching our fundraising goals. Every year, we increase our efforts and have more people join the team to have their own Friendsgiving events.

What was your fundraising strategy for raising funds?
Persistence, enthusiastic encouragement, and sharing information. I've had 27 years of practice in raising funds annually, so fortunately those nearest and dearest to me are expecting "the call" to participate. The best thing I did was ask my company to turn our annual Thanksgiving potluck to a Friendsgiving for No Kid Hungry workplace potluck. We had prizes for best dishes, a casual jeans week for anyone who made a donation and a company match for all the gifts made to my donation page. We saw terrific success!

What advice do you have for new Friendsgiving hosts?
The hardest thing for most of us to do is to ask someone for money. Just remember it's not for you, it's to help the kids who really need it. There is no shame in asking, it's a wonderful thing you are doing. Just keep that in mind. Enjoy yourself at your event, be enthusiastic and always remember that you aren't doing something uncomfortable, you are doing something great. You'll be surprised how many people want to get involved in helping others but don't know how to start. You can be the catalyst and lead the way!

Melissa Serotkin
Washington, D.C.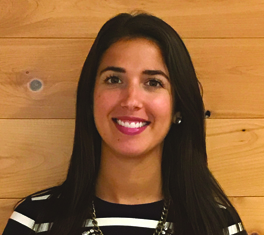 What was your favorite part of hosting Friendsgiving for No Kid Hungry?
I felt connected to the organization and mission on a more personal level.

What was your strategy for collecting funds and reaching your fundraising goals?
Making sure that I wasn't just asking for money but explaining the mission in detail. I also sent a lot of documentation so that people could educate themselves on the mission and goals and feel more comfortable with where their money was going.

What is your favorite Thanksgiving dish, tradition or memory?
Pumpkin pie. It doesn't feel like Thanksgiving without it!